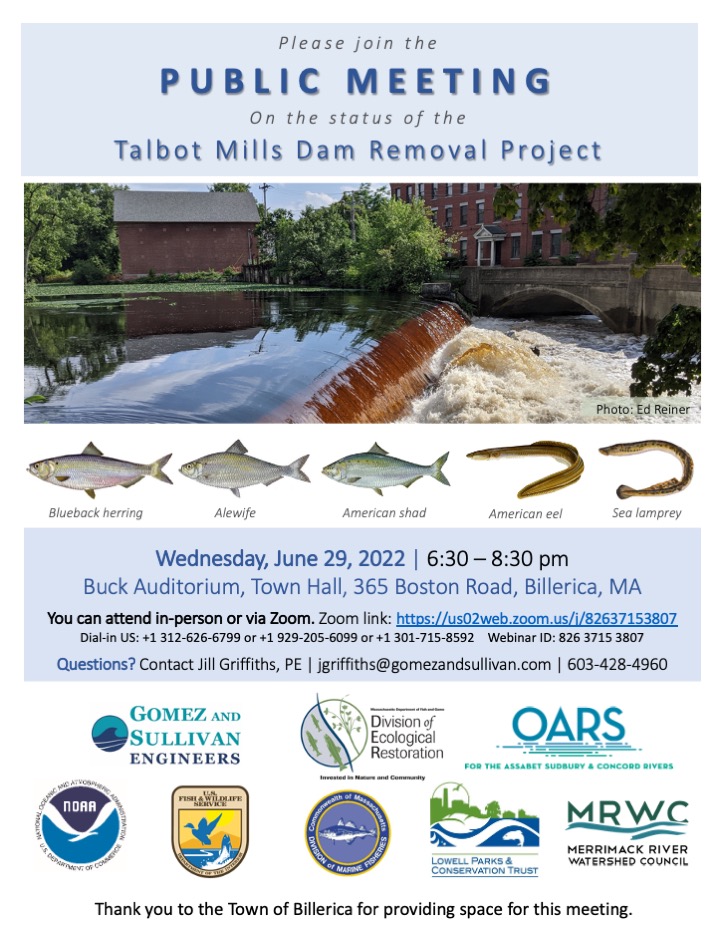 Talbot Mills Dam Removal Public Meeting
The Talbots Mill Dam is located on the Concord River in Billerica, Massachusetts. While the dam once served an important role supplying power for the nearby mill, it now provides more risks and challenges than benefits.
Removing the dam would open up 135 miles of rivers and tributaries and 260 acres of lakes and ponds to migratory fish species as essential habitat, and effectively reconnect this area with the ocean. Not only that, but removal would also improve water quality, aquatic habitat, and natural riverine processes; reduce upstream flood hazards; and eliminate risks to human safety and infrastructure associated with the over 300-year-old structure. Prior to dam construction, this area was once fertile fishing grounds and a transportation route for Indigenous Peoples for over 10,000 years. This project has the opportunity to not only restore river functions and habitat in the Concord River, but to improve fish and wildlife populations all the way in the ocean.
Come learn about the benefits of dam removal and where the process stands, and hear more about a site that has caught the attention of local, state, and federal organizations, including influential naturalists like Henry David Thoreau. Keep an eye out for more content including a StoryMap about the project and river system to come! You can attend in person or virtually (
link here
).