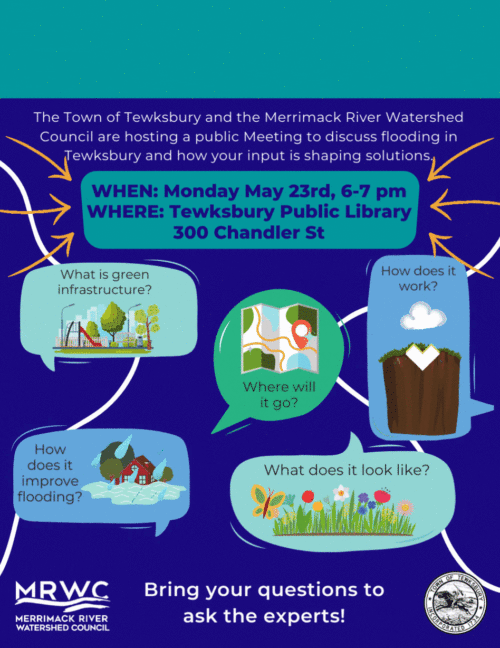 Flooding and Green Infrastructure in Tewksbury – Come learn with the experts!
The Town of Tewksbury and the Merrimack River Watershed Council are holding a public meeting to discuss flooding issues in the town, both informed by a recent town-wide survey, and engineering analysis. We will also be discussing green infrastructure as a solution to this flooding, with specifics on what green infrastructure is already in place, what will be implemented in the future and where. Please visit our 
website
 beforehand and bring any and all questions with you to the event!
Come learn how your input is shaping solutions in Tewksbury. The in-person event is limited to 50 people, so register today!
Date & Time
: Monday May 23rd, 6-7 pm
Location/Address
: Tewksbury Public Library, 300 Chandler St, Tewksbury, MA
Register here
Can't make it in person? Here are other ways you can participate:
-Watch the LIVE STREAM on Tewksbury TV at
www.youtube.com/tewksburytv
-Visit our
StoryMap
 to learn about the flooding issues and potential solutions
-Come visit us at the first Farmer's Market in June where we'll be available to share information and answer questions
We look forward to seeing you soon! If you have questions regarding the event, contact 
susie@merrimack.org