Crow Show 2023 — The Merrimack's Amazing Winter Crow Roost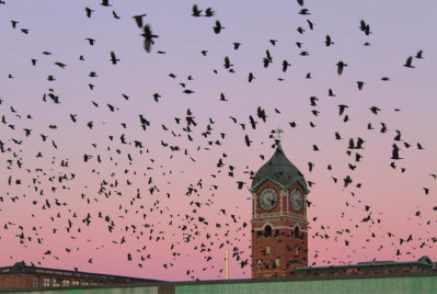 Have you ever noticed the huge number of crows flying above Interstate 495 at dusk? Where are they going? Join local expert Craig Gibson as he presents a fascinating slideshow presentation on the natural phenomenon that we call the Crow Show. This free Zoom presentation will take place Wednesday, Feb. 8 at 7 p.m.
From November through March, thousands of crows — some traveling from up to 40 miles away — descend on Lawrence each night, noisily gathering in temporary roosts before moving as a group to their nighttime roost spot along the Merrimack River. Why do they do it? Why in Lawrence? And where else are they doing it? Craig will provide answers to all your Crow Show questions.
Pre-registration is required. To register, please click on this link.