Invasive Species Removal at Piscataquog River Park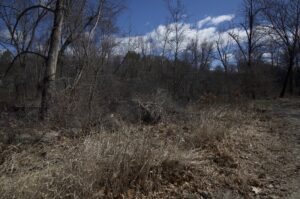 Help the Friends of Piscataquog River Park and the Merrimack River Watershed Council remove oriental bittersweet around the Piscataquog River! Oriental bittersweet is a pervasive invasive vine that rapidly takes over an area. It can grow up to 15 feet per year, climbing up trees and smothering them until they fall over from the weight. Help us protect the forest in the Piscataquog River Park by removing this invasive species and allowing native species to grow.
No experience necessary! A short training will be provided along with tools, gloves, and other supplies. You may need to walk through snow, work within tree branches, and wander into the woods, so please wear appropriate footwear and clothes for working outdoors in the winter.
Join us Saturday, February 11, 2023 from 10 am to 12 pm at the entrance to the park near the baseball diamond in the George W. Smith Complex. Pre-registration is required. You can sign up using this link.
Questions? Email Lauren Zielinski at lauren@merrimack.org.